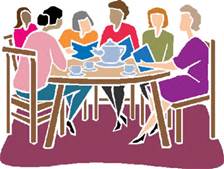 We love Tuesdays! The church is bustling with women's chatter and laughter all throughout the morning! We have an amazing blend of women here at Fisherman's Net. They come from all ages, experience, cultures and interests…. each one so beautifully unique in every way!
Every Tuesday at 9:30 these wonderful ladies meet at the church for worship, study of the Word, prayer, and encouragement. These meetings have become a lifeline for many, a time of refreshing, empowerment, and encouragement; not just for the ladies of the Fisherman's Net family, but for women from other churches and the community as well. Quite a few of these women have said our meeting is like a "filling station," a place where they come in and get filled or refilled.
It is such a blessing to be with a group of women who love God and His Word !