Pastors Jim & Joy MacInnes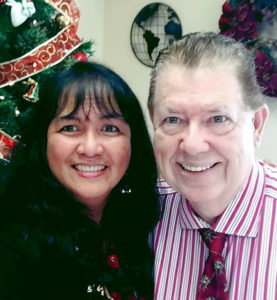 Pastor Jim MacInnes has been involved in ministry for over 40 years. He began as an assistant to Dr. Gerald Derstine, the founder of Gospel Crusade Ministerial Fellowship. He then worked with such speakers as Kathryn Kuhlman which opened the door for his ministry in Sweden and Norway where he ended up staying for 24 years (21 years in Scandinavia and 3 years in Liverpool, England).
Jim established the well-known Christian Center in Sweden called "Jutatorpet." This work included a conference center, publishing house, film ministry, Bible school, rehabilitation center, and travelling ministry throughout Europe where literally thousands came to Jesus Christ and were saved.
Pastor Jim is the author of five books which include "Freedom From Fear" (dealing with fear in your life), "A Song of Victory" (a commentary on the "Song of Deborah"), "A Worthy Sacrifice" (lessons from the book of Malachi), "Jutatorpet" (an account on Swedish Revival), and "Preparation for Victory" (lessons about the life of Joshua on leadership).
Pastor Joy is from the Philippines. She was a practicing dentist and professor at the College of Dentistry of the Davao Medical School Foundation where she headed the prosthodontic department for many years.  Joy has been involved with numerous short-term medical missions, reaching out to the tribal areas in Mindanao and other Asian countries including Laos, Burma, Thailand, areas along the Vietnam and Cambodian borders.
Pastor Joy is a gifted Worship leader with a heart of bringing people to a new and deeper level of intimacy with God through worship. She is passionate in encouraging others and helping them discover who they are in Christ.
We are doing our Sunday Service in 2 platforms - inperson gathering and FB livestream.  With the concern on the Coronavirus still present,  we are doing all we can to create and maintain a safe environment for everyone. Our Worship service starts at 10 AM and we ask that people come 15 minutes before it starts. If you still feel unsafe to come, please join our Online Livestream through Facebook.
We encourage everyone to observe social distancing at all times (6 feet apart) and no hand shakes or hugging at this present time. Give everyone a warm smile and a happy wave as a form of welcome and joy! 
Families living in the same household can sit together.  Sanitizers are available upon entry into the church building and all throughout other locations in the building.  The wearing of facemasks is encouraged but not required.
There will be no Children's Church and Nursery at this time. Our Hospitality Corner where coffee and cookies are usually available are suspended at this time as well.
Thank you for your cooperation and understanding. These measures are all new to us but if it will ensure the safety of every person, then it would be wise to do them.
God bless you all! 
Sunday Worship Venue
The Scout House
5845 Greenwood Avenue
North Port, FL 34287
Email Us
fishermansnetchurch@yahoo.com