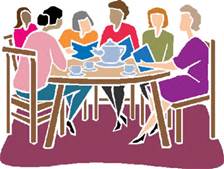 We love Tuesdays! The women continues to meet for Bible study, worship and prayer.  They are currently meeting in one of the ladies home in Venice, FL. 
Every Tuesday at 9:30 these wonderful ladies meet for worship, study of the Word, prayer, and encouragement. These meetings have become a lifeline for many, a time of refreshing, empowerment, and encouragement; not just for the ladies of the Fisherman's Net family, but for women from other churches and the community as well. Quite a few of these women have said our meeting is like a "filling station," a place where they come in and get filled or refilled.
It is such a blessing to be with a group of women who love God and His Word !
Sunday Worship Venue
The Scout House
5845 Greenwood Avenue
North Port, FL 34287